Are you looking for a way to promote your business or even increase your visibility for a political campaign?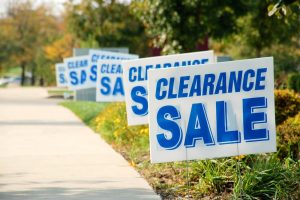 Our yard signs are a great way to share your message. These signs are also known as coroplast or bandit signs and help advertise special events, educate customers, and attract new clients. They're an affordable, easy way of spreading the word about your Tulsa business.
We offer affordable signs, made quickly to order. We are your leading local sign specialist and our state-of-the-art equipment, allows us to manufacture yard signs, banners, and promotional signage to suit all of your needs.
Call Tulsa Sign Company today at 918-900-2227 for your Free Consultation with a Yard Sign Specialist!
Promote Your Business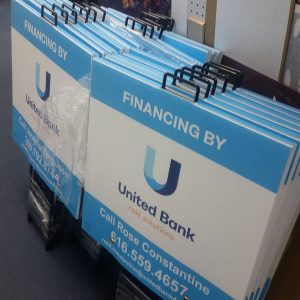 Whatever your business, we produce yard signs are effective marketing tools. We offer innovative, unique and eye-catching signs to grow your brand and increase the visibility of your business. Whether you run a retail store, a non-profit organization, we are here to help you.
Our signs can:
Improve visibility for events, walk-a-thons, fairs, and shows.
Promote products.
Advertise your services.
Inform guests of facilities and give directions.
Build awareness of your brand – for example, promote your company on a construction site.
We are a complete service Tulsa, OK signage shop – offering design, manufacture, printing, and installation. If you have print-ready files then we will make those for you. We have all the tools and skills required to make top quality signage within your budget.
Signs for Real Estate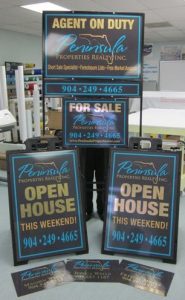 We have a large number of real estate agents among our client base. We offer custom yard signs for open houses, homes for sale and businesses for sale. These signs are ideal for promoting your company and to grow your brand awareness.
Our goal is to be your go-to provider for all real estate signage, lobby signs, storefront signage outdoor banners, everything you need to help your business grow.
Political & Campaign Signage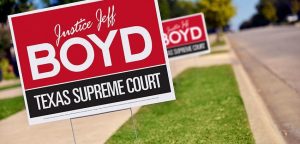 It's not just the real estate industry that makes use of yard signs. Many homeowners use them during election season as a portable and inexpensive way to show their allegiance.
Candidates use them to share their messages with constituents as they are cost-effective and highly portable. We can produce large numbers of signs for candidates and supporters to hand out at rallies, or to place throughout local Tulsa neighborhoods to improve name recognition and increase the potential number of votes for their candidate.
Call for a Free Yard Sign Consultation
You can order online, or, alternatively, call us to take advantage of fast service and local pick-up. We are always happy to discuss your needs and will talk to you to make sure you get exactly what you are looking for with no delays, not stress and no hassle.
Call Tulsa Sign Company today at 918-900-2227 for your Free Consultation with a Yard Sign Specialist!