Are you thinking about attending an expo, conference, convention or trade show in Tulsa? Tulsa Sign Company has enough experience, resources and tools to create durable, appealing and durable displays, booths and exhibits required to guarantee the success of your exhibition. We are renowned for creating professional, exciting and attractive displays and exhibits for your trade show. We understand the importance of creating the best graphics that attract people to your booth. Here, you can excite and educate them regarding your products or services and eventually transform them into investors or buyers.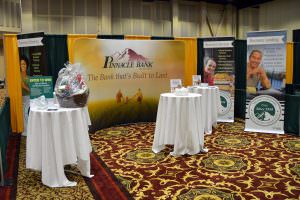 Attending a trade show is a substantial advertising investment for your company. Here, you might incur expenses such as vendor/attendance fees, lodging and travel for the company representatives as well as their payroll. Therefore, your trade show should be successful to get a good return on your initial investment on the whole event. Everything comes down to your booth. You need to create a professional and attractive booth with all the information required by your representatives to sell your products and services. Our displays and booths are designed to attract guests to your displays and support your company reps in the best way possible.




Call Tulsa Sign Company at 918-900-2227 for your free consultation with a trade show display specialist
Trade Show Display Elements
Your trade show display will the unique and effortlessly customized to match your needs and branding efforts. We will design the best trade show booth for your business and include the following elements.
[service_group_5]
We have a professional Tulsa, OK team of skilled exhibit designers who can assist with every part of the design process. That includes sourcing the structures and display elements for your exhibit and also the designing and printing of the graphic elements. We should be your partner for your upcoming trade show!
Trade Show Booth Customization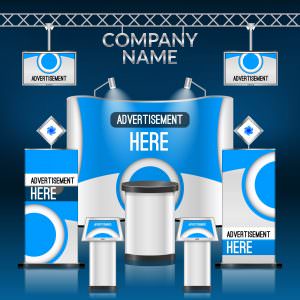 Numerous businesses rely on trade shows for their marketing needs. Eventually, the trade show elements and displays will experience a lot of wear and tear. We are ready to provide any replacements required as well as updates and customizations of your elements to update your messages to create relevancy for the current or hottest products in your business. We can provide customized and unique displays that easy to remove and connect with your target audience. The information found on these marketing tools is prominently and correctly displayed. Regardless of how many trade shows you attend or the customization efforts, we will help you create the best display for your brand.
Trade Show Organizer Partner
If you're a trade show organizer in search of a reliable partner for providing event signage and displays for the attendees, you're in luck. Tulsa Sign Company is the best local and reliable partner for the graphic elements you require to impresses everyone in attendance. Even better, you can rely on our resources to create an effortless navigated space and provide enough support to your partner for successful displays in your event.




Free Trade Show Display Consultation
You can rely on Tulsa Sign Company to create appealing, attractive and durable booths, displays and exhibits to get your Tulsa business recognized at the trade show. We can guarantee ultimate success for your next trade show and are ready to create the best display for your event, brand or business.
Call Tulsa Sign Company at 918-900-2227 for your free consultation with a trade show display specialist