Are you looking for attractive wall murals and graphics to promote your brand? If so, Tulsa Sign Company is your Tulsa partner for all types of wall graphics and murals.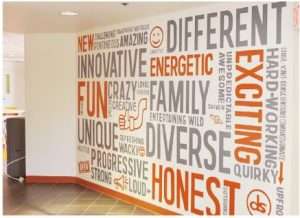 Wall murals are ideal to convert a lonely hallway within your business premises into a space that updates the potential customer about your products and services. In fact, wall displays will add color to a boring hallway. You can proudly display your company logo in the lobby of the premises thanks to vinyl murals.
We design and manufacture all types of wall murals – starting from break room murals to hand washing signs in a bathroom. Whatever your requirement, we can design, produce, and install the perfect wall sticker, vinyl sign, and wall mural in your workplace. You may or may not have a design in your mind. In fact, you may just have a blank wall space in your workplace. Our team will help transform your office wall space into a work of art that promotes your company.
Call Tulsa Sign Company at 918-900-2227 today for a Free Consultation with a Wall Mural Specialist!
Complete Control Of The Design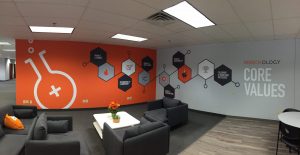 Tulsa Sign Company designs some of the best custom wall graphics for your business. In fact, we use the highest quality materials for this purpose. You can say anything about your brand in our eye-catching and attractive wall lettering and graphics. Whether you are searching for large-scale landscape murals or tiny wall decals, we handle it all for you.
In case you decide to change your mind, no problem, we can take down the graphics at any time you wish. You may either revert back to the plain wall or plan to go with a new mural design that depicts your current branding message.
Full-Service Vinyl Graphics Company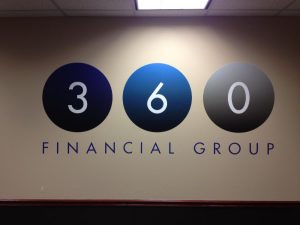 Our Tulsa design experts will create the ideal concept for you in case you don't have a specific design in mind. Our team will deal with every step of the process – from the design, production, and the installation of the mural. We can even perform a comprehensive evaluation of your wall space in order to design the product perfectly so that it fits correctly.
Tulsa Sign Company uses the best quality vinyl materials for you wall graphics. That way you can be confident that the product would be durable. All our murals have an attractive and professional finish – including matte and high-gloss finishes.
Professional Vinyl Graphics Installers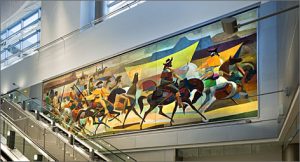 Even though vinyl graphics could be installed using DIY methods, it may affect the finish of the product. That is why you should let a professional take care of the installation process. Although small vinyl signs may not have big issues, large vinyl graphics could be challenging without a professional to install it. It may result in bubbles, creases, and rips which may create an unprofessional appearance for the final product.
Tulsa Sign Company experts will handle the installation without such issues. Even if the vinyl gets damage during the installation process, we will immediately replace it without any charge. You don't get this benefit during the DIY installation process. That's why need to call a professional to install large-format wall murals.
Free Wall Mural Consultation
Our specialists are committed to providing an exceptional product support at all times. We want to be your to-go vinyl graphics company in the region. Our range of vinyl products will ensure that your Tulsa business looks sharp and professional at all times.
Call Tulsa Sign Company at 918-900-2227 today for a Free Consultation with a Wall Mural Specialist!