Impress your customers and guests with high-quality custom wall vinyl graphics!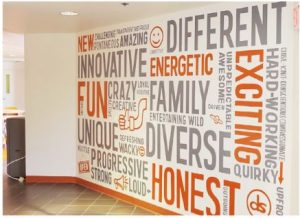 Recommended for corporate use, custom wall graphics can make a dull hallway into a visual timeline of your company story, add an important message to an uninspiring wall, or can even promote your logo in your office reception area.
Whatever your specific size, purpose, or placement, from navigational signs and graphics to durable break room wall graphics, our experts design, produce, and custom install every sign and graphic element your Tulsa business requires. Whether you already know exactly what you want or need support with identifying what is perfect for your business and brand, our industry experts work with you to recommend the ideal custom wall graphics for your business.
Call Tulsa Sign Company at 918-900-2227 for a Free Consultation!
Complete Design Control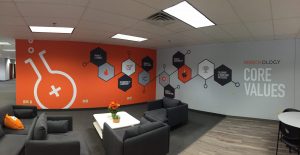 Our company custom produces wall graphics exclusively made for your business, branding efforts, and facilities. Our custom sign fabricators use high-impact, high-quality vinyl to develop custom branded wall graphics and lettering that deliver any message you want. With breathtaking, giant full-story murals to separate wall decals that work together to tell a story, we supply the signs you have been waiting for.
Change your mind? We can help! Our custom wall graphics are removable, so they can be removed anytime. They can be returned to your undamaged, plain surface, or replaced with new graphics that will reflect the most current special events, new products, or branding.
Full-Service Wall Vinyl Company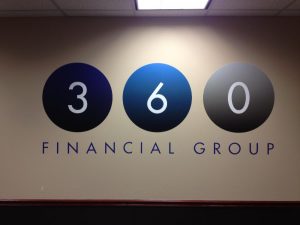 Still weighing alternatives? No problem at all! Our Tulsa team of professional graphic designers will assist you with both conceptualization and design. We take care of every single element of the sign production process, assisting you from creative design all the way to installing the components in your business. We can even perform an on-site evaluation, including measuring your space for the best fit.
Tulsa Sign Company uses sturdy vinyl materials, allowing you to be certain that your vinyl graphics will be attractive and functional with an impressive and eye-catching finish.
Professional Vinyl Graphics Installers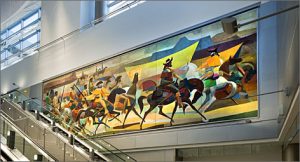 You can place your vinyl graphics yourself, however for a smooth finish, trust an expert vinyl wall graphics installer to put your artwork in place. Full vinyl graphics are usually hard to install, now and then which results in crinkles, cracks, or tears leaving a less than professional appearance.
When you trust Tulsa Sign Company, should there be any challenges that develop when performing the install, for example, damage to your wall graphics, we will replace it free of charge, unlike damages sustained due to installing your graphics yourself.

Free Wall Graphics Consultation
Our experienced professionals are motivated to supply the most effective signs and graphics elements for you. Our desire is to become your one-stop vinyl sign company for all of your promotional signage requests. With a broad collection of vinyl sign and graphic services and products, we do whatever it takes to make sure your Tulsa facility looks professional, sharp, and equipped to support the new potential customers and clients your signs and graphics will generate day-after-day.
Call Tulsa Sign Company at 918-900-2227 for a Free Consultation with a Wall Graphics Expert!