Achieving success in a competitive market can be challenging at times. But by using the right advertising strategy, you can set your business apart from the competition. This involves maximizing every asset that you have at your disposal by turning them into advertising tools.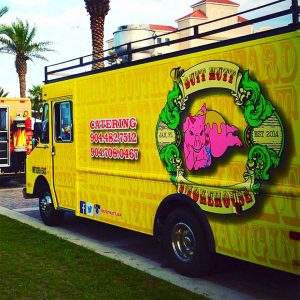 Did you know that aside from your storefront and indoor space, your service vehicles can also be used to advertise your business? Think about the amount of time you or your employees spend on the road—whether you are on the job, delivering supplies, or grabbing some lunch. If your business requires you to be always on the go and you have a fleet of vehicles that you use to deliver goods or perform services, using vehicle wraps and auto vinyl graphics would be a great marketing idea.
Whether you are in need of a simple vinyl decal or a full-coverage vehicle wrap, Tulsa Sign Company can help you. We offer a complete range of custom signage solutions such as the design, fabrication, and installation of vehicle wraps and vehicle graphics for small and large businesses based in Tulsa.
Call Tulsa Sign Company today at 918-900-2227 for a Free Consultation with a Vehicle Wrap Expert!
Attractive Wraps for Your Entire Fleet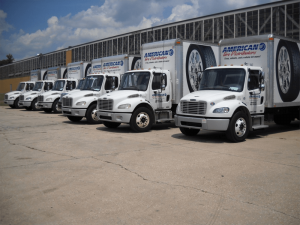 A vehicle wrap is a digitally rendered mobile billboard made from heavy-duty vinyl and is professionally installed on a vehicle. Businesses such as cable providers, pest control exterminators, repair technicians, service crews, and landscaping companies can all benefit from using van wraps. Aside from advertising your business, vinyl car wraps and vehicle graphics also improve the public's perception of your business and inspire confidence as well.
If you are a service provider and you need to visit your customers, using vinyl wraps allows your customers to be more comfortable in letting you into their homes. Aside from their promotional benefits, car wraps also serve to protect your investment. The vinyl vehicle wraps we make protect the finish of your vehicles and can be easily removed, unlike a more permanent and more expensive paint job. The fleet graphics and auto decals we make are also durable and can bear the brunt of the varied weather conditions in Tulsa, OK.
Your Designs, Perfected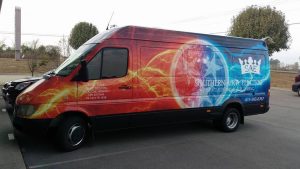 The possibilities are endless when it comes to the design of your truck wraps and trailer wraps. Whether you already have a custom wrap design in mind or you want to give us a free hand, we will come up with attractive auto wraps that will drive business to your doors. You have the option of going minimal by using simple car graphics, or you can let your imagination run wild and request for various design elements to be placed on your business vehicle wraps to add personality and a touch of whimsy.
You get to clearly define what it is that you do and indicate the services you have to offer. More importantly, you can also provide contact and location information, making it easy for them to find you and your products and services.
Simply put, vehicle wraps, car vinyl graphics and vehicle decals are a great way for you to increase the visibility of your business in your local area.
Vinyl Graphics, Partial Wraps, & Magnets

A full vehicle wrap may not always be the best option. However, there are many other ways that you can use your vehicle to boost awareness of your business. You can go for a partial vehicle wrap, a vinyl decal, or a vehicle magnet. Tulsa Sign Company provides consultations to help you determine what is right for your vehicle, promotional needs, timeframe, and budget.
Partial Car Wraps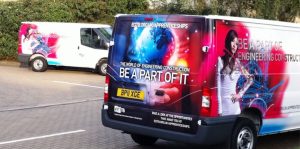 A partial vehicle wrapping is a type of vehicle coverage that is less than a full wrap but more than a vinyl decal. It makes use of less vinyl materials and is placed on the most visible parts of the vehicle to achieve maximum impact.
If your business has a fixed advertising budget, you can still harness the benefits of custom auto wraps by putting a partial wrap on certain portions of your vehicle. A partial wrap can be just as effective as a full wrap, as long as it is designed correctly and properly fitted to the vehicle.
Vinyl Graphics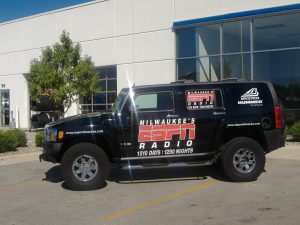 Vehicle vinyl graphics are somewhat similar to partial vehicle wraps because they cover only a small part of the vehicle. However, these are different from wraps because the material is cut from a high-quality vinyl sheet.
Vinyl graphics are a great way to reach many people during your daily commute if you have a limited budget to consider or a limited space on your car. This option is also great for people who are not yet ready for the full wrap effect and would prefer something minimal like a logo or a tagline placed on their service vehicles.
Vehicle Magnets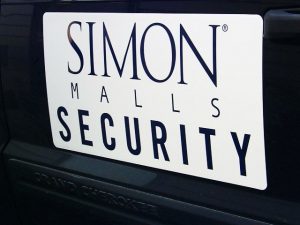 If you want ad wraps for vehicles that can be easily removed and put on again, you should look into vehicle magnets. Because of their portability, you can easily peel them off and have them replaced by another one quite effortlessly.
This is great if you have more than one event, product, or brand that you represent or want to promote, or if you live in or frequently travel to a signage restricted area.
Professionals Wraps For All Vehicle Types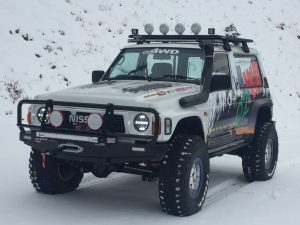 Our team of in-house designers can handle any design challenge you can throw at them. We can turn an ordinary-looking vehicle into a showstopper that promotes your brand and brings more customers to your doors. You have the option of choosing a clean, minimalist design or go for broke and choose a vibrant and dazzling one for your fleet vehicle wraps and car decals. Whatever design you choose to go with, you can be assured that our professional fabricators will turn your ideas into reality.
Aside from designing and creating interior and exterior signage, we also provide vehicle wrap design solutions for different types of vehicles such as the following:
[service_group_3]
Promotional Car Wraps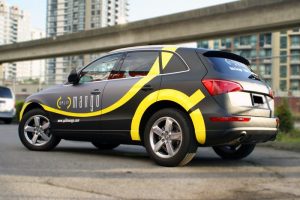 If you want your business to thrive in the long run, you need to stay in front of your customers' minds on a constant basis. Car wraps help you achieve this because of their low-cost and high-impact results. They are also great for local targeting. Driving around your local service area allows you to target the people who live nearby.
You can go about your day and do your errands, and let the vehicle wrap do the work for you. By having a clear and concise marketing message, your vehicle wrap will work for you 24/7 whether you are driving on a busy road or your car is parked in a parking lot.
Custom Boat Wraps
It is not only vans and cars that we wrap; we also do boat wraps as well. A boat wrap allows you to transform your boat into a great advertising medium. It also protects your boat's gel finish from scratches and harsh rays of the sun. It is an easy way to upgrade the appearance of your boat, and can be used to cover an oxidized gel coat or a bad paint job. The boat graphics we make are made of durable vinyl that won't wear off even if exposed to sun and saltwater for an extended period of time.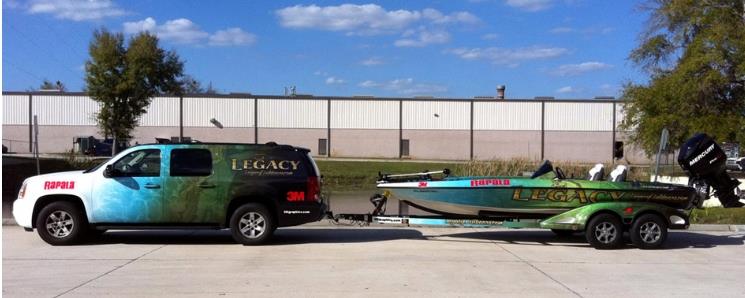 We make sure that the wrap installation will not interfere in any way with the identifying signs on your boat such as ID numbers, license numbers, and the name of your ship.
If your boat-based business offers a whale-watching cruise, sailing lessons, eco-tours, and many more, using boat wraps is an inexpensive way to market your business at a fraction of the cost of other traditional advertising campaigns.
Full-Service Vehicle Wrapping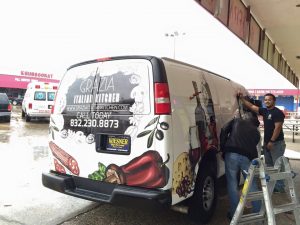 From full vehicle wraps to vinyl decals, and everything else in between, we can help you promote your business through the use of ad wraps for cars. We start with a consultation where we determine the goals you want to achieve. We will then create a mockup design of the vehicle wrap and submit it to you for approval.
You can provide suggestions or request for edits, and we'll revise the design until you are completely satisfied. Once we have your approval, we'll hand over the design to our fabricators to create the vinyl wrap and have it installed professionally in your vehicle.
Free Vehicle Wrap Consultation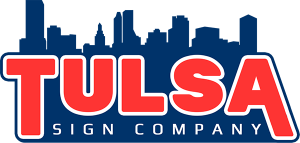 Like any other creative undertaking, knowledge is the first step to a great vehicle wrap design. Allow us to get to know your Tulsa business better so we can come up with the perfect vehicle wrap and trailer graphics for your fleet. Call us now at Tulsa Sign Company and receive a free consultation from one of our signage experts!
Call Tulsa Sign Company today at 918-900-2227 for a Free Consultation with a Vehicle Wrap Expert!