Professional, engaging, and supportive signs and graphics have a great impact on your business or organization, and can provide further benefit as we face the impacts of Covid-19. Whether supporting instinctive wayfinding or encouraging your team, your unique signs promote safe and profitable business operations.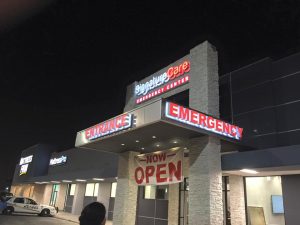 Trusting a specialist makes it simple to get the perfect coronavirus signage elements. There are a lot of components that need to be taken into consideration, for example, your marketing and brand promotion objectives, how customers and guests find their way through your space, any relevant local sign regulations, and even the wear and tear you expect your signs to experience all impact the type, style, and number of signs you need to create a comfortable and safe place to work and shop.
Your local Tulsa signage experts, Tulsa Sign Company understands how targeted signs and graphics can help to manage business navigation, remind staff of safe work routines, and reinforces your marketing and branding. By creating engaging, eye-catching signage elements that are designed specifically for your facilities, brand, and goals, we can support you with getting your business or organization to new heights.
Call Tulsa Sign Company at 918-900-2227 for your Free Consultation!
Wayfinding & Safety Hospital Signs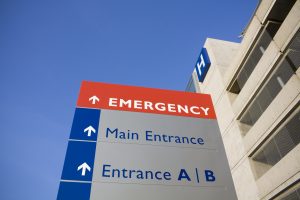 When facing a healthcare emergency including Covid-19, it's vital that both incoming patients and healthcare staff can easily find how to best navigate your hospital. Effective wayfinding assistance, essential information, and warnings should really be displayed prior to the patient ever stepping in the hospital. The ability to lessen contact explains why hospital signs and graphics and wayfinders are very important. Effective signage can assist with more streamlined patient assistance, operate as a reminder to conform with healthier hygiene habits, and cut down the possibility of further spreading infection by minimizing in-person contact.
Clearly signify the right parking sections and facilitate inbound patients and guests by providing useful directions using helpful hospital signage elements by Tulsa Sign Company. To improve your sign and graphic visibility for patient arrivals at all times, we provide highly reflective signage. Indoor hospital signs and graphics can include things like increased hand washing notices, reminders of new safety and security procedures and practices, and additional wayfinding signage elements in order to cut down on in person assistance.
Whether you need to provide easy parking and unloading support or help keep patients experiencing health conditions apart from coronavirus continue to be free of infection, signage elements can help with cutting down on health risks to you, your dependable team of healthcare experts, and your new and returning patients.
Assisted Living & Nursing Home Signage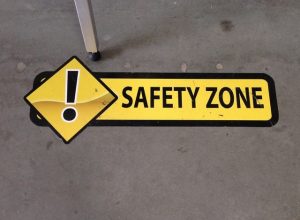 When nursing homes are faced with a health related emergency situation including the coronavirus, specifically Covid-19, it is key that new residents and hospital staff understand where they must go and the shortest or safest path to get there. Proper navigational assistance, important details, and warnings should ideally be available prior to a patient ever walking in the medical facility.
The ability to lower contact is why nursing home signage and functional directional signs are critical. Useful signage is able to support streamlined and faster patient navigation, perform as a good reminder to conform to safer hygiene practices, and decrease the chance of spreading disease by cutting back on person to person contact.
Supportive indoor nursing home signage can comprise of increased hand washing notices, important reminders of safety procedures and practices, and additional navigational signage in order to reduce person to person assistance. Intuitive signage elements can help to minimize health concerns to you, your loyal staff of healthcare specialists, and your patients.
Business Update Signage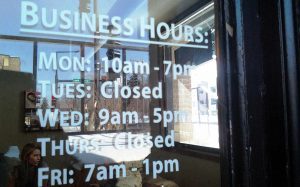 Is it necessary for you to make temporary modifications to your hours of operation or business practices in way to cut down on the spread of Covid-19 or the coronavirus? Well-crafted, supportive signs and graphics help your customers and prospects identify the best way to still do business with you while contending with the current limitations.
If you hope to route your clients and customers to a drive-thru or alternative location, provide important information with regards to limited hours of operation, or communicate new or alternative phone or contact details your customers and clients can use to reach you when your location is not available for drop-in guests, Tulsa Sign Company produces functional commercial signs, graphics, and banners to assist you.
Our Tulsa, OK professionals deliver limited exposure sign and graphic components, which allows us to create your necessary sign and graphic products, even including expert installation at your business, without having physical or in-person interaction with you or your team. As things can change suddenly during this , we are still able to provide quick production turn-around on simple informational signs and graphics, and once you have been set up as a customer, our team can fabricate updated, branded signs and graphics with nothing more than a hassle-free phone call or email to submit your new signage requests.
Every Sign Your Business Needs!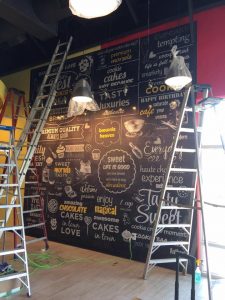 You can always rely on Tulsa Sign Company to supply attractive, impactful wayfinding, hospital, and safety signs and graphics. If you require short-term signage to keep customers informed of your business changes during the coronavirus, or are utilizing this slower period update your facility signage without impacting business operations, Tulsa Sign Company has the ability to assist you by supplying supportive commercial sign elements.
From navigational signage to wall murals, we recognize the specific specifications of various types of businesses. Our Tulsa team factors in your branding, organizational objectives, and facilities and space so we can produce the most effective signage components for your branding and promotional needs.
If you are looking for just a single wall sign or a full assortment of commercial indoor signage elements, Tulsa Sign Company will produce it.
Our commercial sign services include:
[service_group_1]
[service_group_2]
[service_group_6]
Free Expert Sign Consultation
Tulsa Sign Company is prepared to support as we all go through this challenging phase. Our motivated, accomplished staff is eager to create the branded, custom commercial signs you need to effectively support brand reinforcement, product promotion, wayfinding, or customer service.
Call Tulsa Sign Company at 918-900-2227 for your Free Consultation with a Signage Specialist!