Inform, excite, and educate prospective future clients with tempting window graphics showcasing your latest products or services.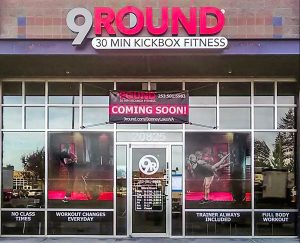 Whether your Tulsa business is trying to promote special services, you wish to offer privacy for your patrons within, or only desire to educate your would-be clients about your product/service mix; intriguing window signs and graphics get your business recognized and considered.
Tulsa Sign Company is your dependable local vinyl window signs and graphics company, delivering enticing window graphics, clings, displays, and signs that serve as a constant marketing presence.
Call Tulsa Sign Company today at 918-900-2227 for your Free Consultation!
Window Signs For All Businesses
Tulsa Sign Company manufactures eye-catching and informative window lettering, graphics, and full displays for enhanced business recognition. Our seasoned vinyl sign and graphic designers will deliver durable window graphics that directly support your marketing goals, are complementary to your existing marketing elements, and sell your services.
Our window sign products consist of:
Sale Banners
Full-Color Window Posters
Vinyl Window Clings
Cut Vinyl Window Lettering
Branded Privacy Film
Vinyl Window Graphics
& More!




Our window sign and graphics experts develop the branded signs and graphics you need to support your business and marketing goals. We find out about your brand and business to make intelligent suggestions for custom signage solutions that exceed your expectations. Our experienced professionals are prepared to reinforce your marketing goals with engaging, eye-catching window graphics, signs, banners, lettering, wraps, and more.
Retail Window Graphics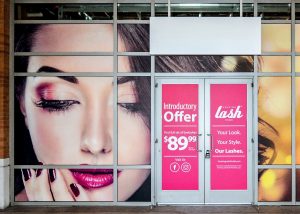 Retail shops have a lot of time and effort invested in their custom promotional window displays. A custom window display is specially designed to bring interested future consumers into your business. When you're having a special sale, event, or promotion, or aim to boost sales of a high-demand, seasonal item, promotional window displays are an affordable way to accomplish this.
Generally, window displays are upgraded regularly to exhibit the hottest goods your company provides. Tulsa Sign Company develops brand-promoting window graphics, signs, and full displays to build interest in your special events and sales and intriguing merchandise in an attractive way that will generate more guests.
Privacy Window Vinyl For Offices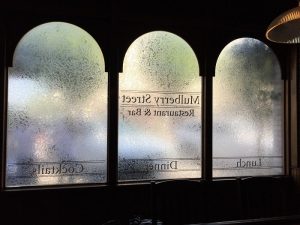 Large office buildings, for instance, insurance brokers, real estate agents, service professionals, counselors, law firms, and many more, take advantage of branded vinyl window film on their front-facing windows for branding, promotion, or privacy applications. Our Tulsa professionals manufacture privacy film that provides the same overall look as a frosted glass window panel, without the hassle and expense of replacing entire glass panels.
Including your logo, business name, or other company identification within your privacy film is a fantastic method for increasing your business and brand awareness while maintaining appeal. Our local team of professionals can deliver unique privacy film custom-crafted specifically to your business and clients, or produce samples of commonly selected vinyl film products so you can make an effective plan for your location.
Window Signs For Service Providers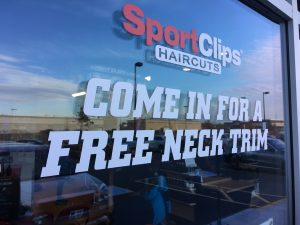 When done correctly, service providers can also improve their business visibility with a branded window display! Put your windows to work with full displays and murals or custom lettering, banners, posters, or graphics displaying your exclusive goods and services, special promotions, or even develop an exciting custom window display that showcases your business does best. Our skilled signage project managers create a custom plan to build the ideal custom display that your business wants. We handle production as well as the skilled installation of your durable graphics.

Free Window Graphics Consultation
Tulsa Sign Company delivers everything, from the first conversation through to professional installation. Our experienced signage professionals produce the targeted window signs, displays, posters, banners, and graphics you must have to captivate more new customers or provide privacy to those within your facilities. Whatever your Tulsa business needs might be, Tulsa Sign Company provides the correct sign and graphic solutions for your unique needs!
Call Tulsa Sign Company today at 918-900-2227 for your Free Consultation with a Window Graphics Specialist!